In order to try to fill the void Zion has left in her heart, Monyette invites her good friend Parker Trimble over. In no time, they were talking and laughing like old friends.
Monyette asks Parker to move in, and he said yes. That night, Monyette goes into labor with Zion's child. Parker is surprised, but excited. He is a family sim.
(2010 - I am taking a chance with this photo...Photobucket may delete it. If so, I will upload elsewhere.)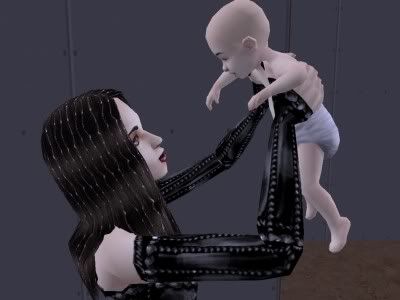 Welcome to the world, Alexander!
And, welcome to the world, Cassandra! Both of the children look like their mother, Monyette.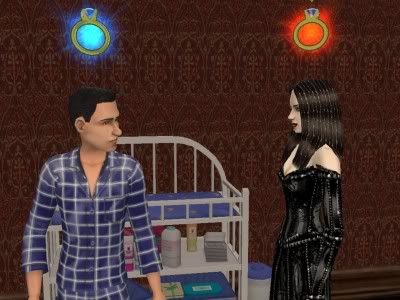 Paker and Monyette get engaged. Parker is really excited! He loves children, and feels right at home with two new babies to provide for and take care of. Monyette is glad to get the help, but didn't want to sacrifice her single status to get it. It will be a day or two before they actually marry. The twins must grow up a little. And, Monyette needs some time to get over her fear of marriage.
Today is the twin's birthday to toddlerhood. Parker has worked hard keeping Monyette in money so she could have a nanny around much of the time to help with the babies. He is now an MD and has earned the career reward for medicene. In the meantime, Monyette has fallen in love with Sinjin Buckingham, otherwise known as Mr. Big. Striking while the iron was hot, Monyette married Parker after a heavy makeout session with Sinjin, losing her fear of marriage.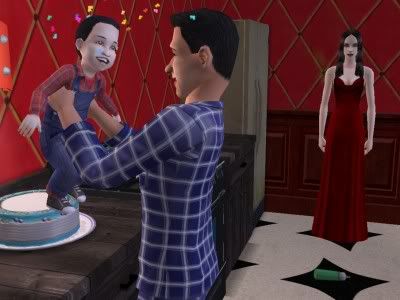 Alexander ages to toddler.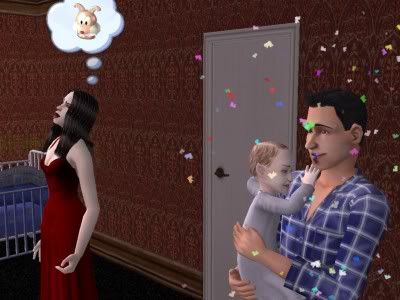 Cassandra ages to toddler. What a weird lookin' kid!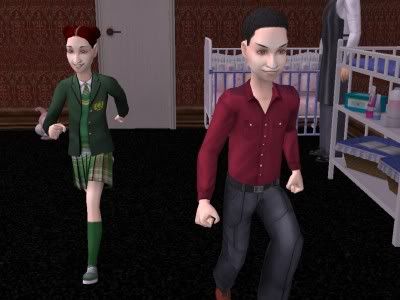 The twins age to child, both Little Wonders. They learned to potty and walk. In the meantime, Monyette is in bed resting. She is in her third trimester of pregnancy with Parker's child. She has fallen in love with Sinjin Buckingham, and has a crush on Remington Harris, the Pizza Delivery man. Sinjin constantly showed wants to marry Monyette during the three dates the two shared, so he will be the next husband. It won't be too much longer before Parker joins Zion in the graveyard.
Welcome to the world, Wednesday Widow! Parker's child is born!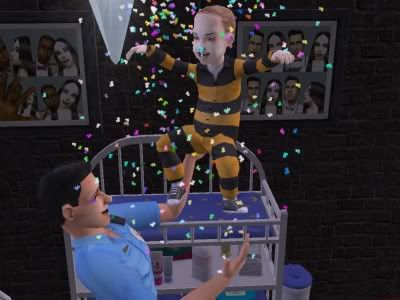 Wednesday ages to toddler. She was taught to walk, talk, and potty by her big handsome daddy before he met his demise.....
One afternoon while he was policing the area for roaches, Parker found a shiny pair of scissors. He just couldn't help himself. The scissors made him feel so happy he went running in the sun with them to see them sparkle.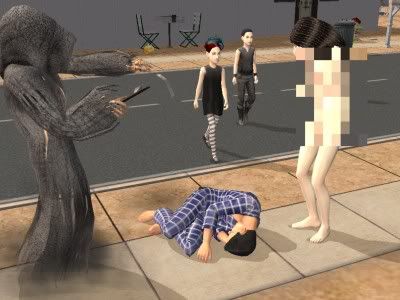 Alas, he tripped and fell, fatally stabbing himself with them. The twins Cassandra and Alexander once again found themselves fatherless, and poor Wednesday inside was playing with toys not having a clue what was happening to her dad. Monyette came running out of the house from her bath to mourn her husband's passing.
Parker and Zion.
2010 - And ends the life of husband number two. Next read the short but sweet story of Mr. Big - Sinjin Buckingham.