Meet Monyette Widow. She has recently moved into Challengeville. She has bought a rather large lot, a 5 X 6 for $18,500 Simoleons, and realizes she must immediately get a husband for some income. You see, she doesn't want to work herself. She is the subject of our Black Widow's Challenge. Today's date in real time is October 26, 2005. That means, this challenge will end on or before December 6th, 2005.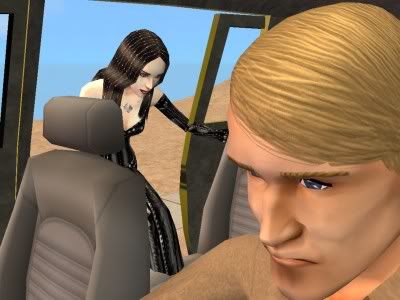 Monyette decides a trip to town is on order to find a husband. She immediately thinks her taxi cab driver is cute, but alas, she couldnt' interact with him. So on she goes.
Monyette has met Zion Tellerman, a server from one of the restaurants she went to while on the prowl for a man. The two only took 1.5 days to fall in love. Notice the house in the background, Monyette's neighbor. That is the home of Edgar Alan Poe, deceased. Monyette discovered Mr. Poe passed away after several wives, and has a graveyard right beside the house. Monyette thinks this is great. (See the family The Poes, on my SimPage.) She wishes she had a grave yard like that.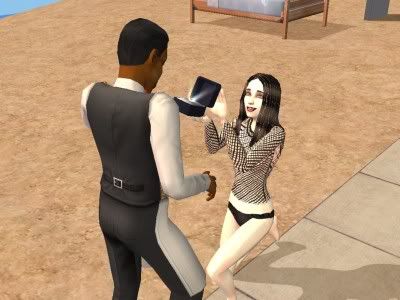 After a delightful afternoon of making love, Monyette asks Zion if he would like to be engaged to her, and he said yes. Oh boy, does he know what he is in for?
Here they have married. Sorry for the bad pic....Monyette's underware is x-rated. Had to be discreet with the camera angle.
Oh what is this? Monyette seems to carrying Zion's child.
Zion seems to be very hungry. Monyette has cut off Zion from any food by sealing herself inside the house with pizza. The house, by the way, that Zion provided for her by getting great promotions at work. He was in the military career, and provided the obstical course.
Here comes Grim. Monyette realizes she is going to get a start on that graveyard, but she is very sad.
Zion's grave.
(2010) - And that is the story of husband number one for Monyette, Black Widow. Next, meet and say goodbye to husband number 2, Parker Trimble.