With Remington's demise, it was time for another husband. Jake was a toddler already, and the baby oven was empty! Meet Cleave...errr...Smith? I didn't write down his last name. Monyette has managed to snag a second Mr. Big.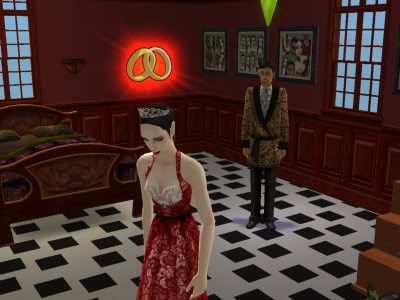 The marriage went well. Monyette wasn't showing a fear of marriage, but she was not a happy camper about the whole thing. To make up for that, she managed to get everything out of Cleave's inventory. A Dance--o-sphere....a second kareoke machine..and....TWO pianos.
Cleave impregnated Moneytte right away, then decided in celebration to play a tune on the piano. Oh Cleave...oh Cleave...couldn't you have placed the piano away from the fireplace???? (The first time around I remember he had the 'death by disease' card. This time he drew 'fire'.)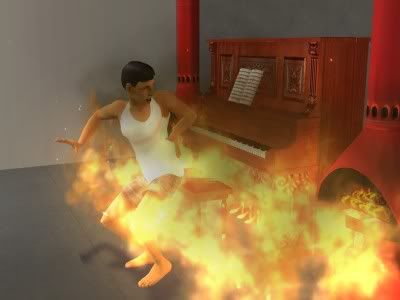 Uh-huh. Goodbye, Cleave.
Short but sweet...that is it for husband number 5. Who is in the bullseye as husband number 6? This guy has become the favorite of Simmers everywhere.....
Read on!